AnkerMake M5
€899,90 με ΦΠΑ
AnkerMake M5 3D Printer by Anker
5X Faster Printing
Precise 0.1 mm Detail
Built-In Al Camera Monitoring
Hub Connects Multiple Devices
7×7 Auto-Leveling
Auto-Created Timelapses
Easy Assembly
Aluminum Alloy Structure
Print Volume 235×235×250 mm³
Description
5X Faster, Extra Intelligent.
AnkerMake M5 3D Printer by Anker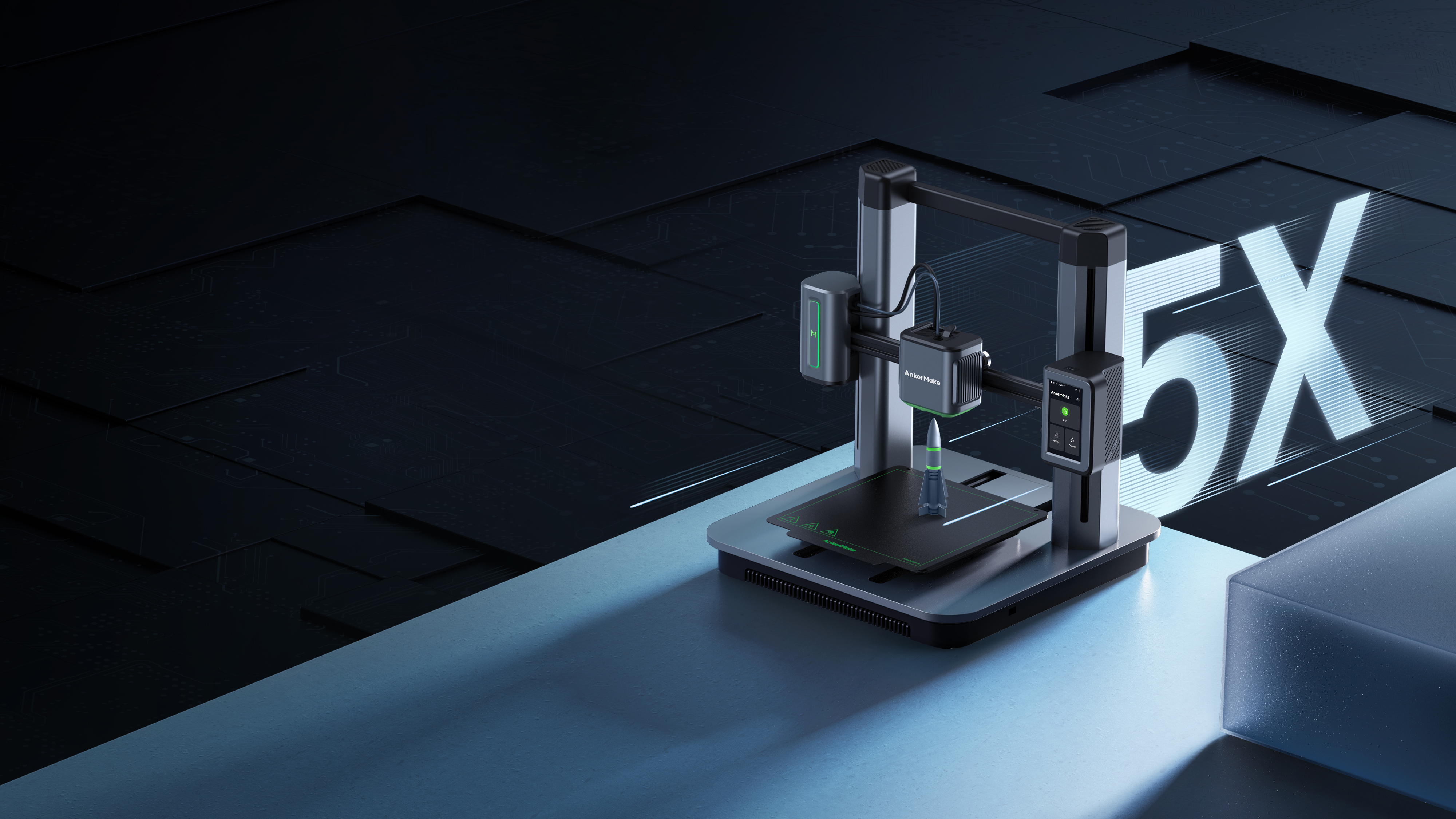 5X Faster Printing
Precise 0.1 mm Detail
Built-In Al Camera Monitoring
Hub Connects Multiple Devices
7×7 Auto-Leveling
Auto-Created Timelapses
Easy Assembly
Aluminum Alloy Structure
Print Volume 235×235×250 mm³
Explore the 3D Printing Frontier
AnkerMake M5 prints 5X faster with 0.1 mm precision. Built-in AI Camera Recognition system keeps your prints on track. Stop the wait and let us help you print smart and fast at every step.
Start Your Prints with M5
See M5 in Action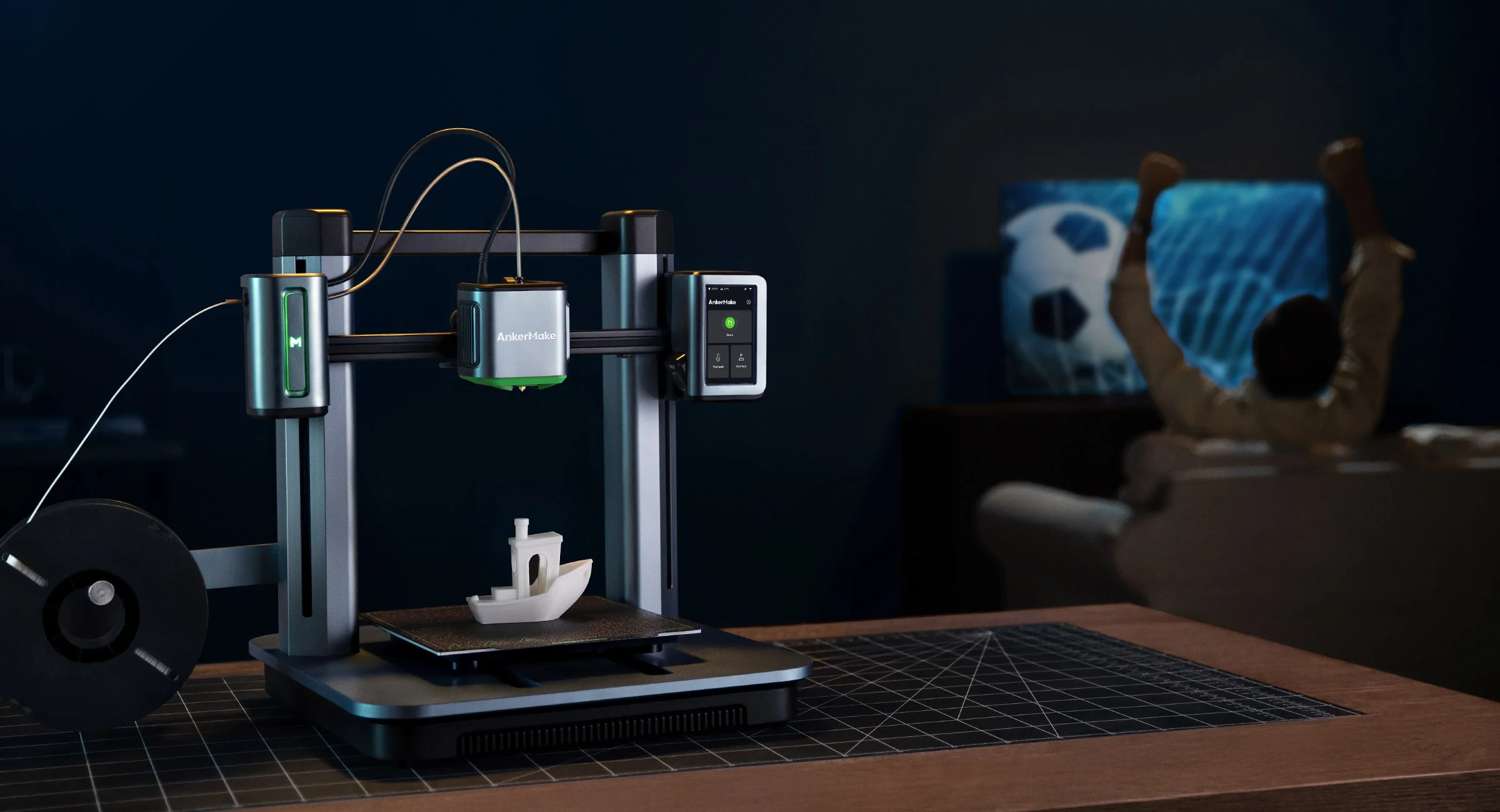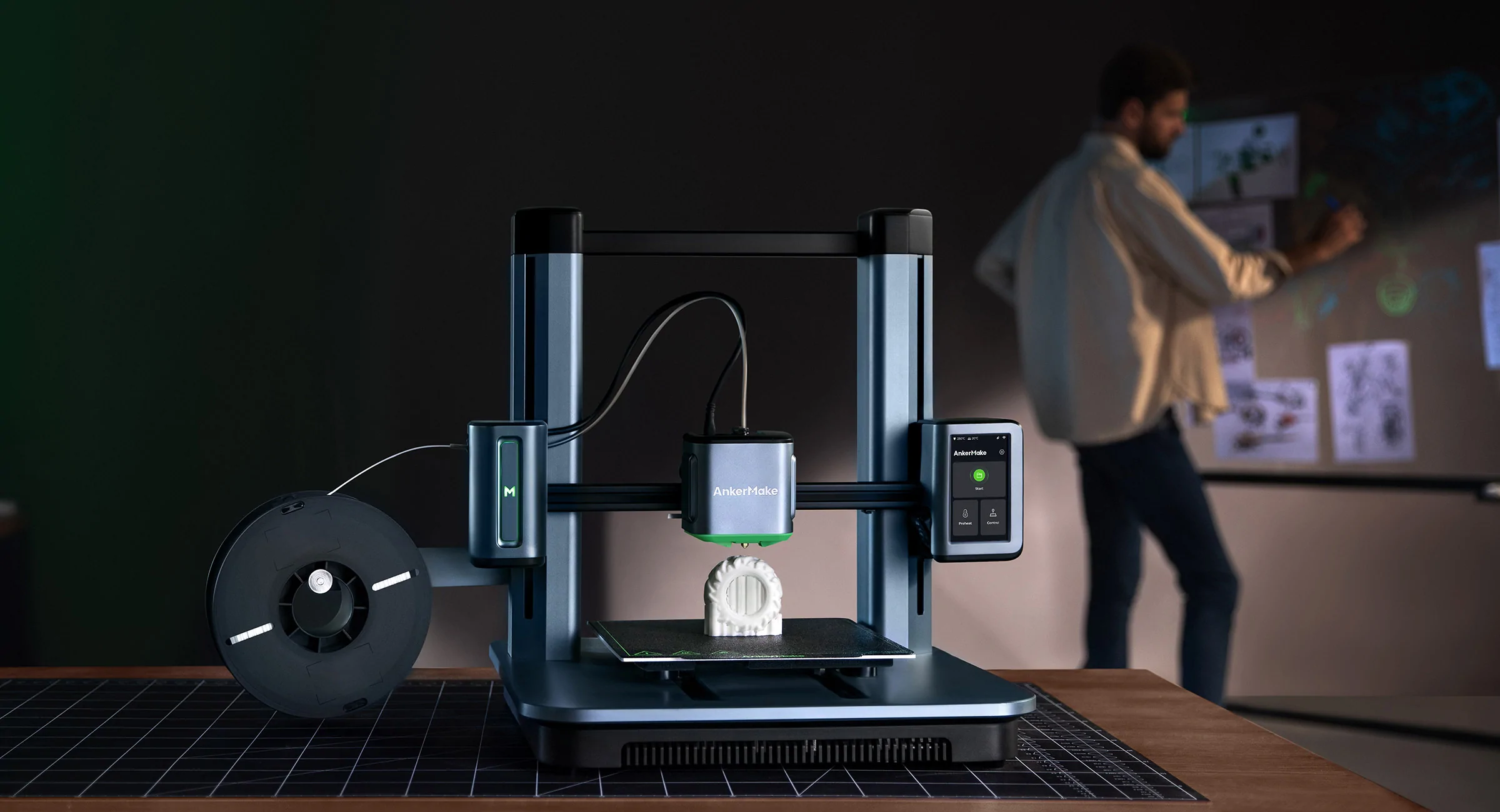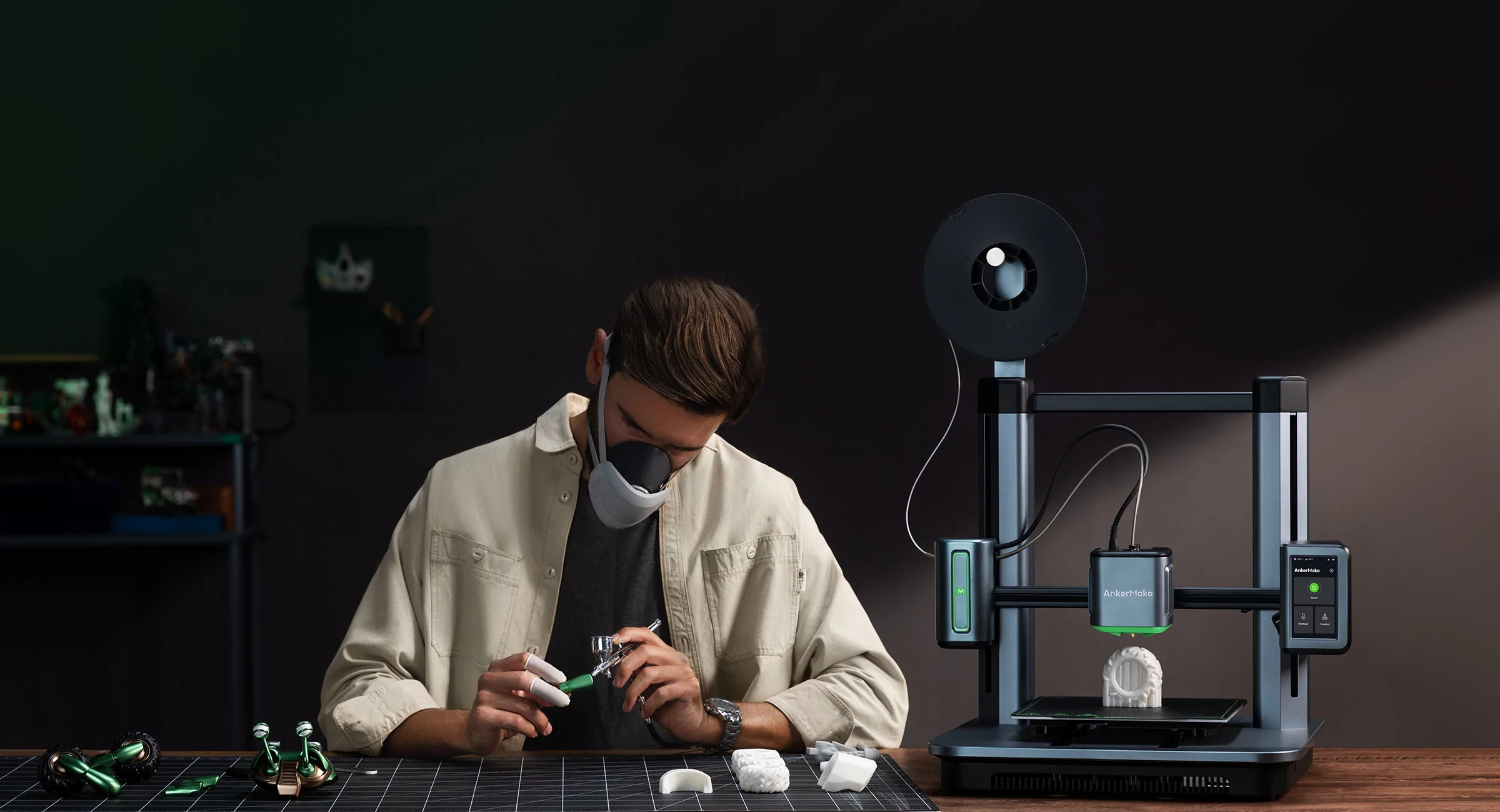 See True High-Speed
| | |
| --- | --- |
| | |
| Printing Speed 250 mm/s | Printing Speed 50 mm/s |
Cut Printing Time By 69%

Tests were conducted by AnkerMake in Sep. 2022 using AnkerMake FDM 3D Printer at operating speed of 250 mm/s.

Cut Printing Time By 75%

Tests were conducted by AnkerMake in Sep. 2022 using AnkerMake FDM 3D Printer at operating speed of 250 mm/s.
Driven by PowerBoost™

You'll achieve high-speed precision thanks to PowerBoost™, which optimizes energy with its Y-axis transmission system. PowerBoost™ uses a powerful stepper motor, double-belt driveshaft, and stabilized-motion algorithm to push out loads of extra power for high-speed printing.

Standard Speed: 250 mm/s
Accelerated Speed: Up to 2,500 mm/s²
Precise 0.1 mm Detail
Never compromise on stable quality even when you're printing at 5X speed. AnkerMake M5 frees yourself from sanding with smoothness in every thick layer.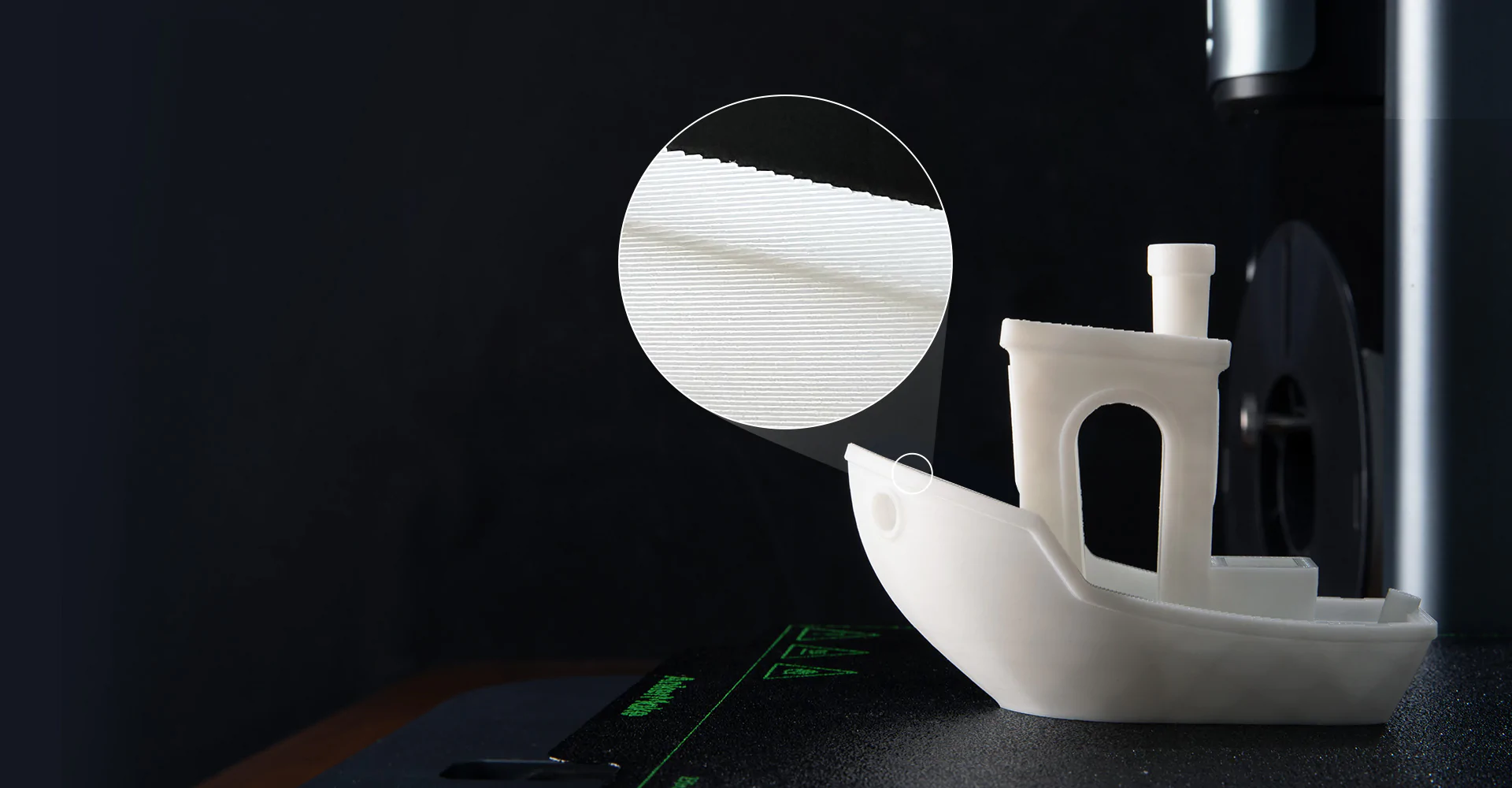 New Ultra-Direct Extruder
With a redesigned ultra-direct extruder, you feel the intricate details after a 5X faster print. The shortened distance between the extruder and nozzle reduces errors and enhances control for the precision. A proven algorithm analzyes and matches motion to extrusion. It was fine-tuned with more than 2,000 tests in the AnkerMake lab.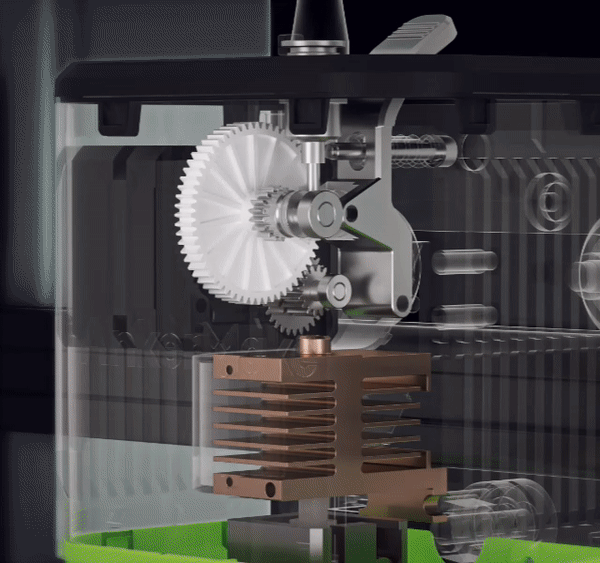 3.1X Extrusion

Higher Multi-Stage Gear Ratio

The foundation of high-speed printing starts with the enhanced multi-stage gear system with a 9.37 reduction ratio putting out 0.8 N·m of torque. The strong twisting puts pressure on the melting chamber to make extrusion faster.

1.5X Melting

Larger Heating Block

The 60W heating rod quickly raises the nozzle temperature to 392°F (200°C) with 1.5X the efficiency of other printers. The heat makes sure the filament smoothly discharges while printing fast at 250 mm/s.

1.3X Cooling

More Air Input Volume

The double-cooling system uses a pair of fans that push out 1.3X the air output volume of other printers at max-speed. The cooling avoids stringing and helps quickly cool down your model.
Integrated Die-Cast Aluminum Alloy
The integrated die-cast aluminum alloy structure and Z-axis design increase the weight of the base, reducing the center of gravity of the machine. The design makes printing more stable for fast speed and turbo acceleration. This also reduces installation errors for the base, improving printer accuracy.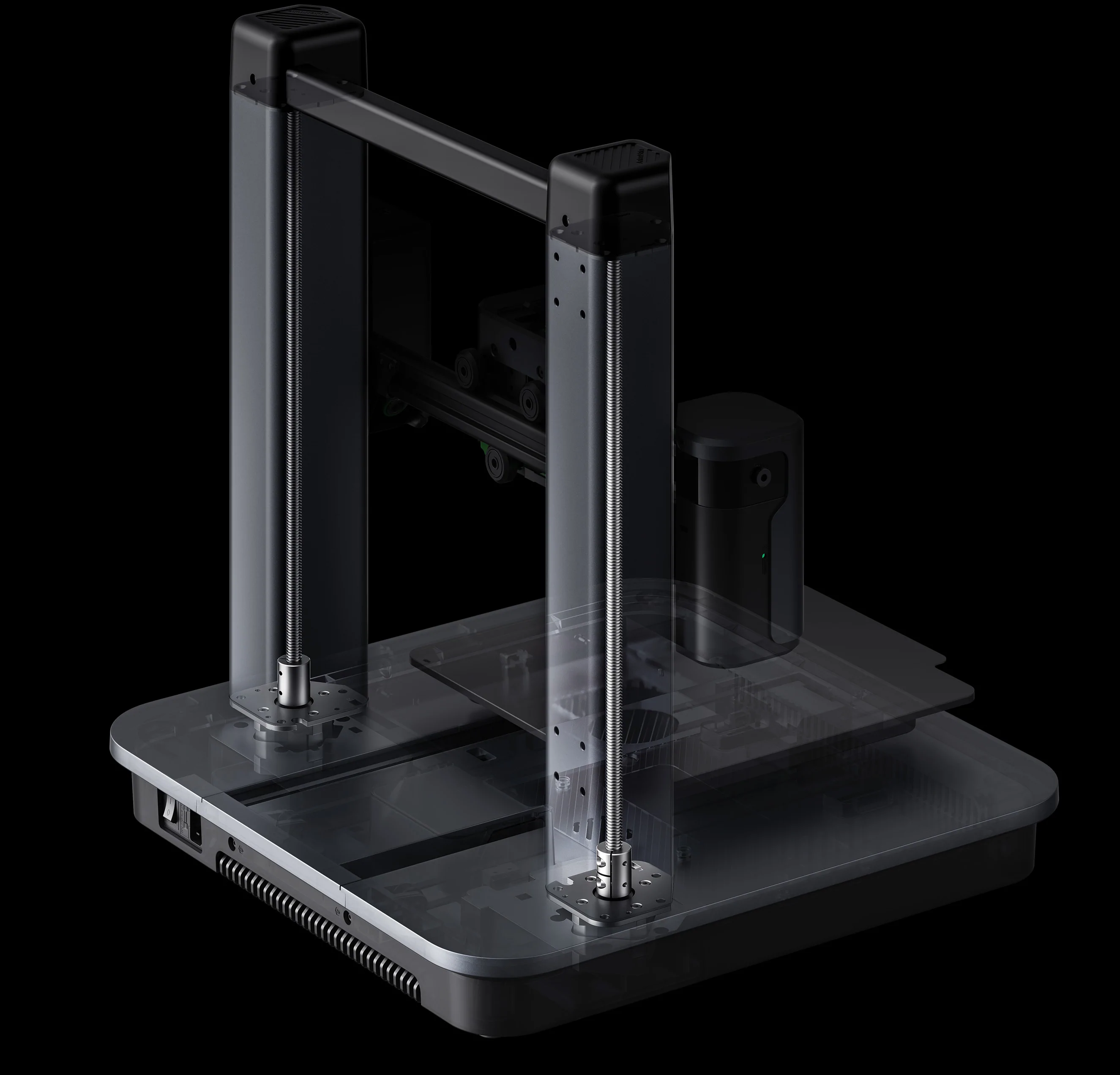 Powerful Processing
M5 comes packed with two processors, including the XBurst CPU for intelligent 3D printing and Marlin CPU for routine processing. With the extra power, M5 keeps track of your prints so your model matches your design.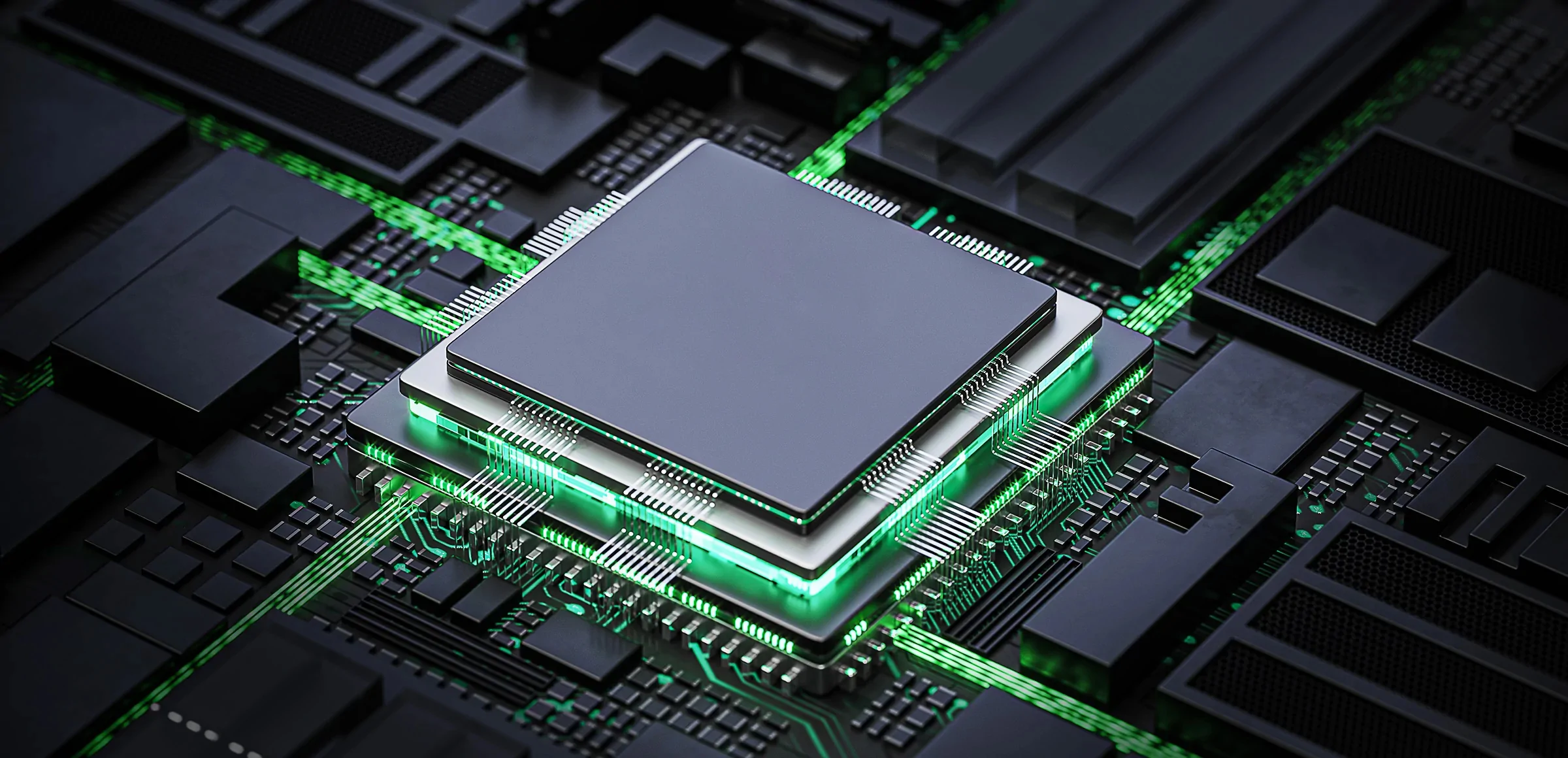 3-Core Heterogeneous CPU (1.2GHz ×2 + 240MHz)
Specialized for Image Recognition (VPU, ISP ×2, CIM)
Designed for the Artificial Intelligence of Things (AIoT)
The Integrated Intelligent Camera

1080p Full HD Resolution
Real-Time Monitoring (Up to 720p)
Timelapse Videos (1080p)
Frame Rate: 30 fps
Worry-Free Printing with M5
AI Camera Recognition System

The AnkerMake slicer analyzes the 3D data of the model before printing begins, then the AI Recognition System uses the powerful XBurst CPU to continually check and compare throughout the entire process.

Error Detected, Instant Alert

Protect Yourself From

Spaghetti messes
Staggered layers
1st layer adhesion failure
Nozzle blocking

Monitor Your Prints 24/7

Check in when you want with real-time viewing via the AnkerMake app.

Even if it's 3 AM, you can check on the progress of your print with adaptive light-sensing algorithms. Plus, timelapses look cooler after the sun goes down.

Share Your Timelapses

Feel good about your creations and show them off with timelapses that are easy to share on social media.
Start Prints Whenever, Wherever
Whenever the moment of inspiration strikes, you'll be able to access your prints wherever you are. You can even track prints, pause tasks, or modify settings.
| | |
| --- | --- |
| | AnkerMake Slicer |
| AnkerMake App | |
| | Alexa and the Google Assistant |
Make It Easy to 3D Print at Home
7×7 Auto-Leveling

Give your prints accuracy with 7×7 auto-leveling. Advanced algorithms calculate a virtual height map to get the print started right. The only time you need to do any tweaks by hand is when you upgrade something major like the nozzle or PEI soft magnetic steel plate.

Integrated Design Keeps Your Workspace Tidy

Avoid tangled cables and multiple stray devices with 1 neat, cohesive design. M5 consists of the base and the gantry frame, plus the Z-axis design hides any dangling wires from your view.

Bendable and Scratchproof Plates

No matter how big or small, removing a print is now easy with just a slight bend of the scratch-resistant PEI soft magnetic steel plate when it cools down. And with the heated bed's magnetic design, you can easily remove and put the print sheet back.

Get Printing Status Notifications

You've got your choice of how to find out when something changes with your 3D print. See an LED light 33 ft (10 m) away, hear a beep, or get an app alert.

Print Large Models with High-Speed Efficiency

Supersize your prints to a whopping 235×235×250 mm³ and watch M5 handle the job fast at 5X speed.

4.3″ Touch Screen Simplifies Printing

Make the most common tasks easy with a smart, colorful LCD touchscreen. You can also switch to Night Mode to help your eyes when you're working late.

Save Material with Instant Alerts

Never waste a moment or an ounce of filament again with low filament and error alerts. M5 scans before and during the print to ensure your print comes out exactly to your specifications.
Assemble Easily
It doesn't take a degree to assemble M5, just 15 minutes from the time M5 arrives at your door.
| | | |
| --- | --- | --- |
| | | |
| Take out all the accessories. | Fasten the screws at the bottom. | Start your print. |
Picks Up Prints After Outages
Keep your print going with safe storage during power outages. If the power goes off, the printer saves the current layer, then resumes the print when the power comes back.
| | | |
| --- | --- | --- |
| | | |
| Just Unplug | Plug Back In | Watch Print Resume |
Reduce Energy Use by 59%
Printing time isn't the only thing getting cut by 70%. Help the planet as you cruise along at 5X speed.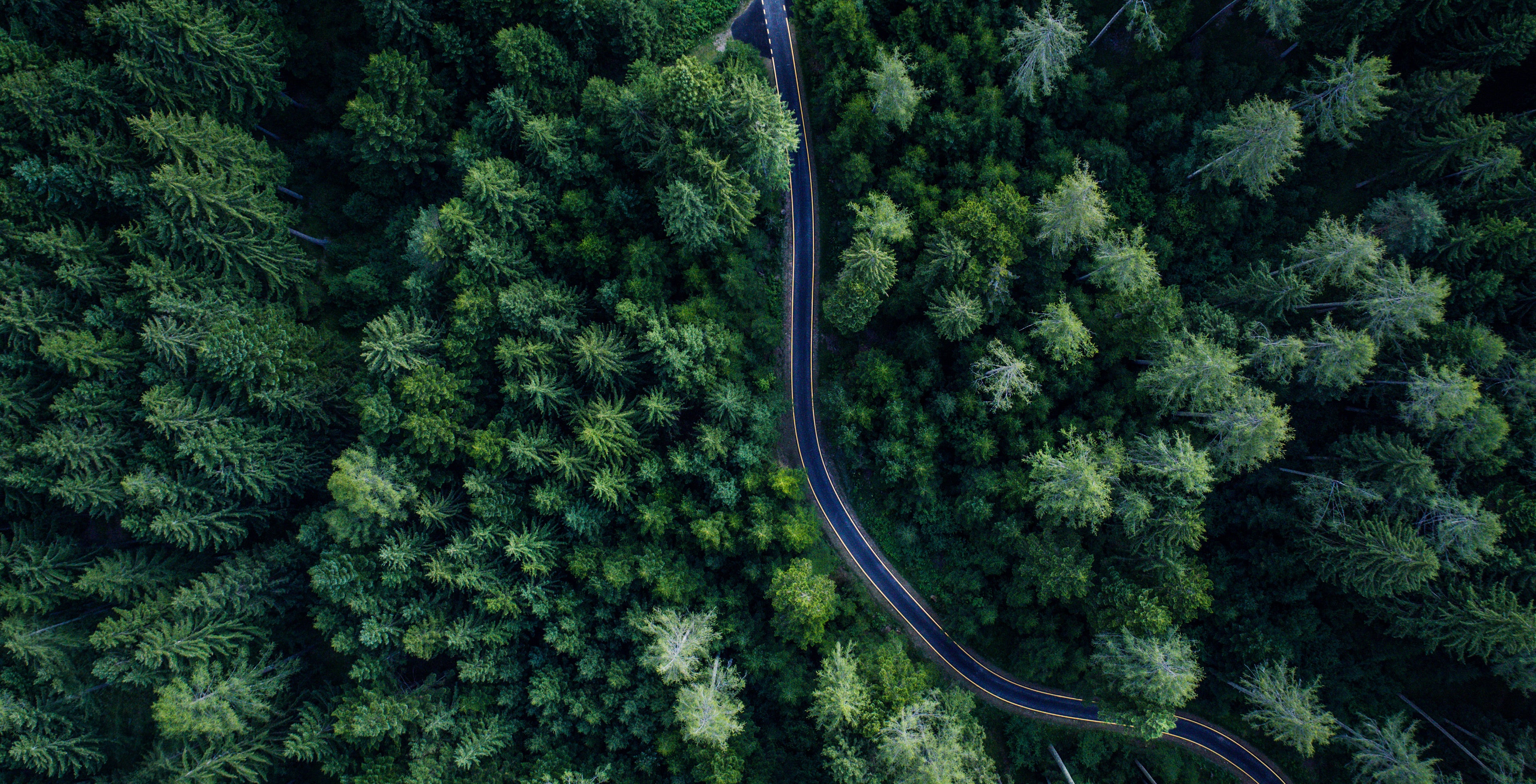 Specs
Printing Parameters

Print Volume (L×W×H)
235×235×250 mm³
Standard Speed
250 mm/s
Acceleration
2,500 mm/s²
Operation Speed
50-250 mm/s
Print Precision
±0.1 mm[1]
Nozzle Diameter
0.4 mm (Compatible with 0.2/0.6/0.8 mm)
Filament Diameter
1.75 mm
Print Materials
PLA/PETG/TPU/ABS
Extruder Temperature
Maximum 500°F (260℃)
Heating Plate Temperature
Maximum 212°F (100℃)

Printing Features

Extruder
Ultra Direct Extruder
Part Cooling
Double Cooling Fan
Extruding Gear
Double Hardened Steel
Heated Plate
PEI Soft Magnetic Steel
Auto-Leveling
Auto 49 (7×7) Points
Filament Sensor
Broken Material Detection
Resume Printing
Supported

Electronic

CPU
Dual XBurst(1.2GHz) + XBurst 0(240MHz)
Operation System
Linux
EMMC
8 GB
Connection
Wi-Fi (App, AnkerMake Slicer), Type-C USB Flash Drive, OTA Upgrade
Camera
Detection: AI Recognition
Real-Time Monitoring: Up to 720p
Timelapse Videos: 1080p
Timelapse Videos Frame Rate: 30fps
Night Vision: Infrared + LED
Display
4.3-Inch Touch Screen
Remote Control
AnkerMake App, AnkerMake Slicer
Voice Assistant
The Google Assistant, Amazon Alexa (Printing Status Check)
Power
350W
Power Input
AC 100-240V

Software

Slicer Software
AnkerMake Slicer (macOS, Windows), Simplify 3D, Ultimaker Cura, PrusaSlicer
File Input Format
STL, OBJ
Supported OS
MacOS, Windows

Body

Machine Size
502x438x470 mm (Without Filament Holder)
Net Weight[2]
27.3 lb / 12.4 kg
Gross Weight[3]
32.6 lb / 14.8kg
[1] Test Model: Cube- 50mm x 50mm x 50mm
[2] For products shipped to different countries, net weight may have slight differences.
[3] For products shipped to different countries, gross weight may have slight differences.