Flashforge Creator Pro 2 – IDEX Dual Extruder
€899,90 με ΦΠΑ
IDEX Dual extruder
Enclosed chamber
Touch Screen display
Description
As an upgraded version of the classical Creator series, with the Independent dual extruder (IDEX) system, the Flashforge Creator Pro 2 provides beginners with higher quality and easier operation.
Creator Pro 2 is the best-in-class of compatibility of wide brands filaments by the classical structure.
Key features:
Independent dual extruder system
Classical structure
Compatible with a wide range of materials
The heatable platform for easy object removal
Classical structure
Creator Pro 2 still chooses the metal frame structure to keep the stability of printing. A full closed print chamber lower s the influence of the environment for printing. All enhance the compatibility with a wide range of filaments.
Independent dual extruder system
The independent dual extrusion system with Creator Pro 2 realizes that print two materials in one object and makes 3D printing easy.
Mirror Mode
Print two mirrored designs.
Duplicate Mode
Print two exact same model and get double productivity.
Soluble Support Mode
Print a complex structure with soluble support and create better-printed objects.
Multi-material Print Mode
It is possible to print two different materials in one object.
A wide range of materials
With a temperature of 240 extruders, Creator Pro 2 has great compatibility with many of the leading materials manufacturers. Creator Pro 2 supports PLA, Pearl PLA, PETG, PVA, and HIPS.
Make calibration more precise
Creator Pro 2 supports extruder calibration to make prints more precise.
Heatable platform
With the fast and uniform thermal conductivity, models in any size adhere to the heatable platform easily.
Touchscreen interface
Colour touchscreen interface makes every action visible. The printing status in real-time.
Specifications
Print
Extruder Number2
Extruder Diameter0.4 mm
Maximum Set Temp. of Extruder240 ℃
Maximum Set Temp. of Platform120 ℃
Print Speed10-100 mm/s
Print Volume200*148*150 mm
Support Filament PLA, Pearl PLA, PVA, PETG, HIPS
Layer Resolution0.1-0.4 mm
Print Resolution±0.2 mm
Device
Device Measure526*360*403( 550 ) mm
ScreenTouch Screen
Net Weight15 kg
Gross Weight21 kg
Input100-240 VAC, 47-63Hz
Output24 V, 13.3 A
Power320 W
SpoolExternal
Software/Communication
Data TransmissionUSB cable, SD card
SoftwareFlashPrint
Inputgx/g files
Output3MF/STL/OBJ/FPP/BMP/PNG/ JPG/JPEG files
Others
Noise55 dB
Working Environment18-30 ℃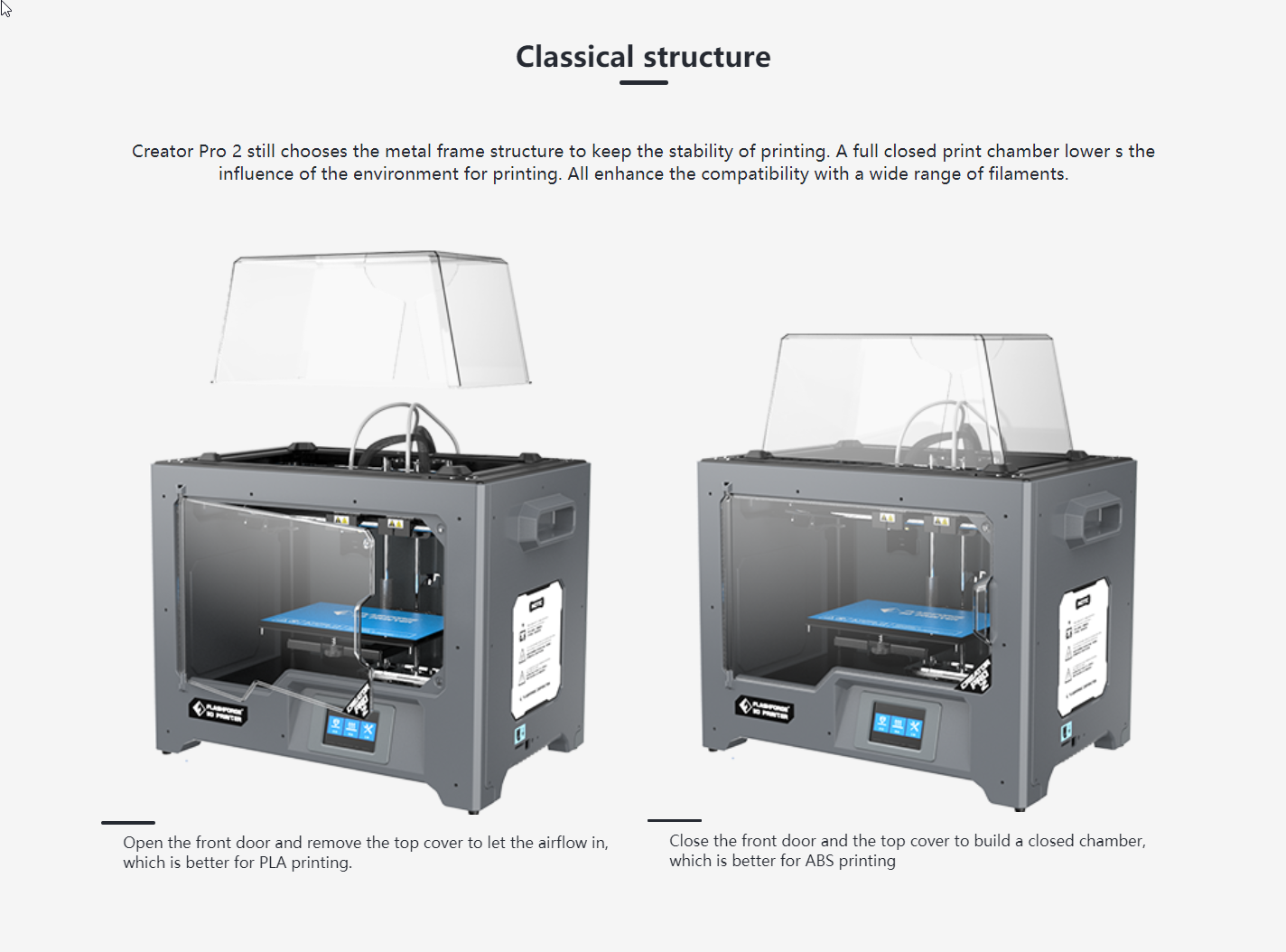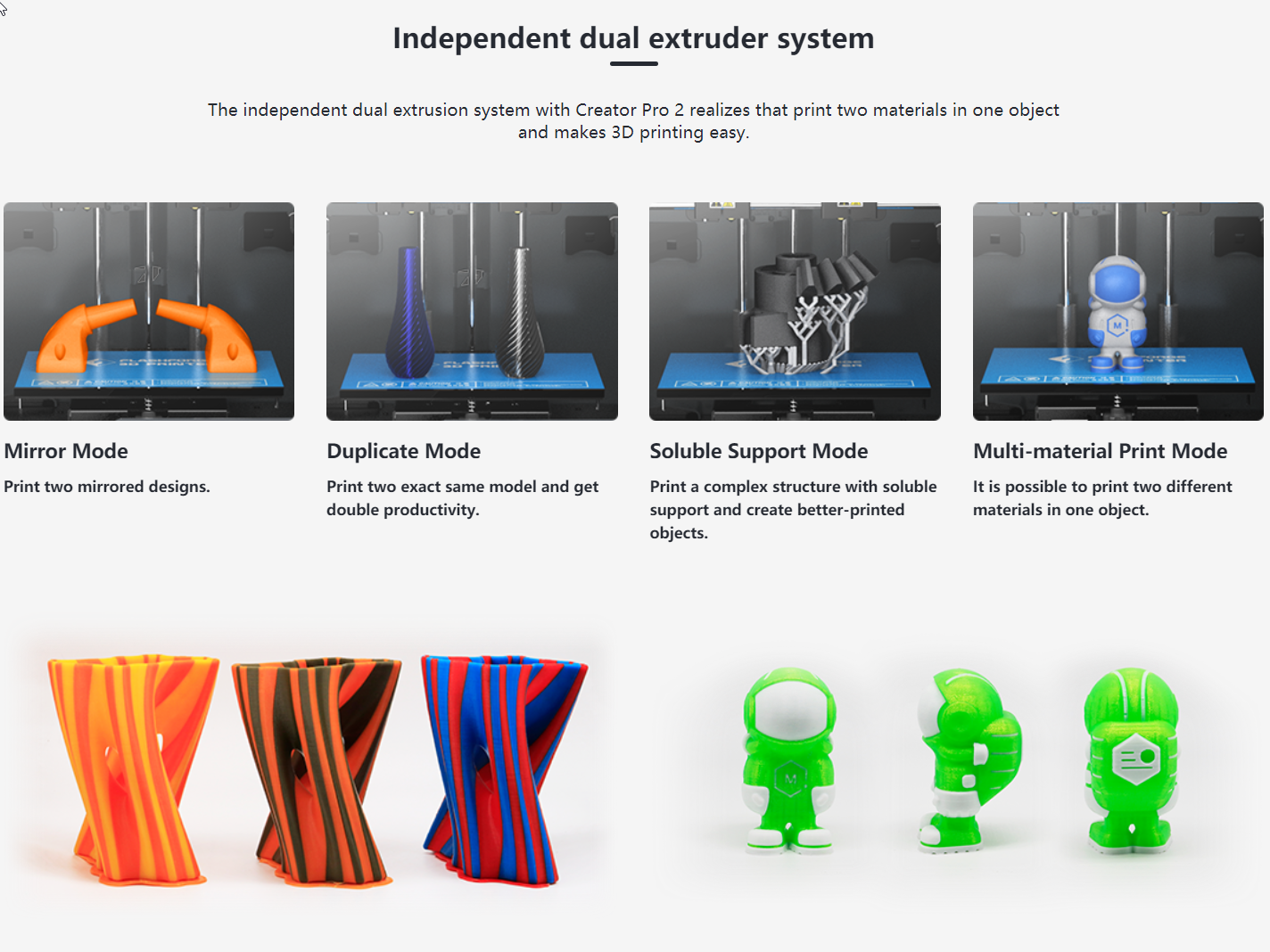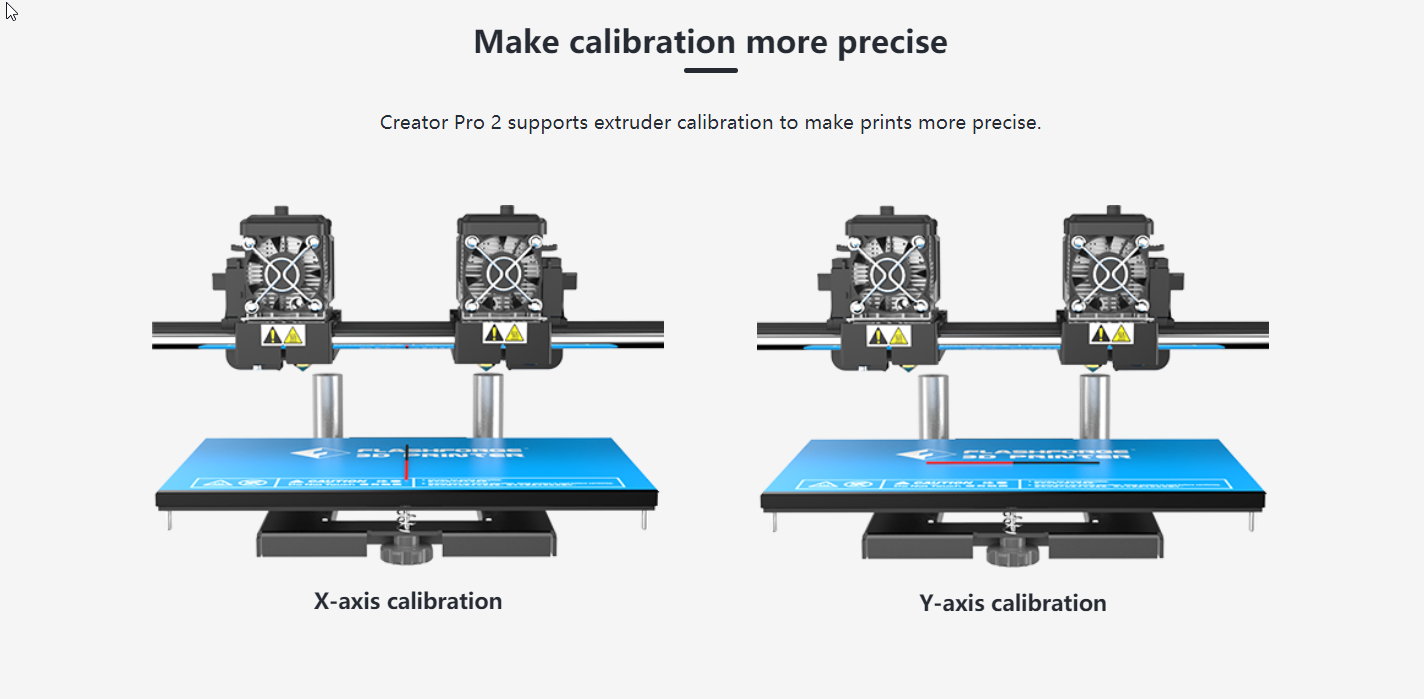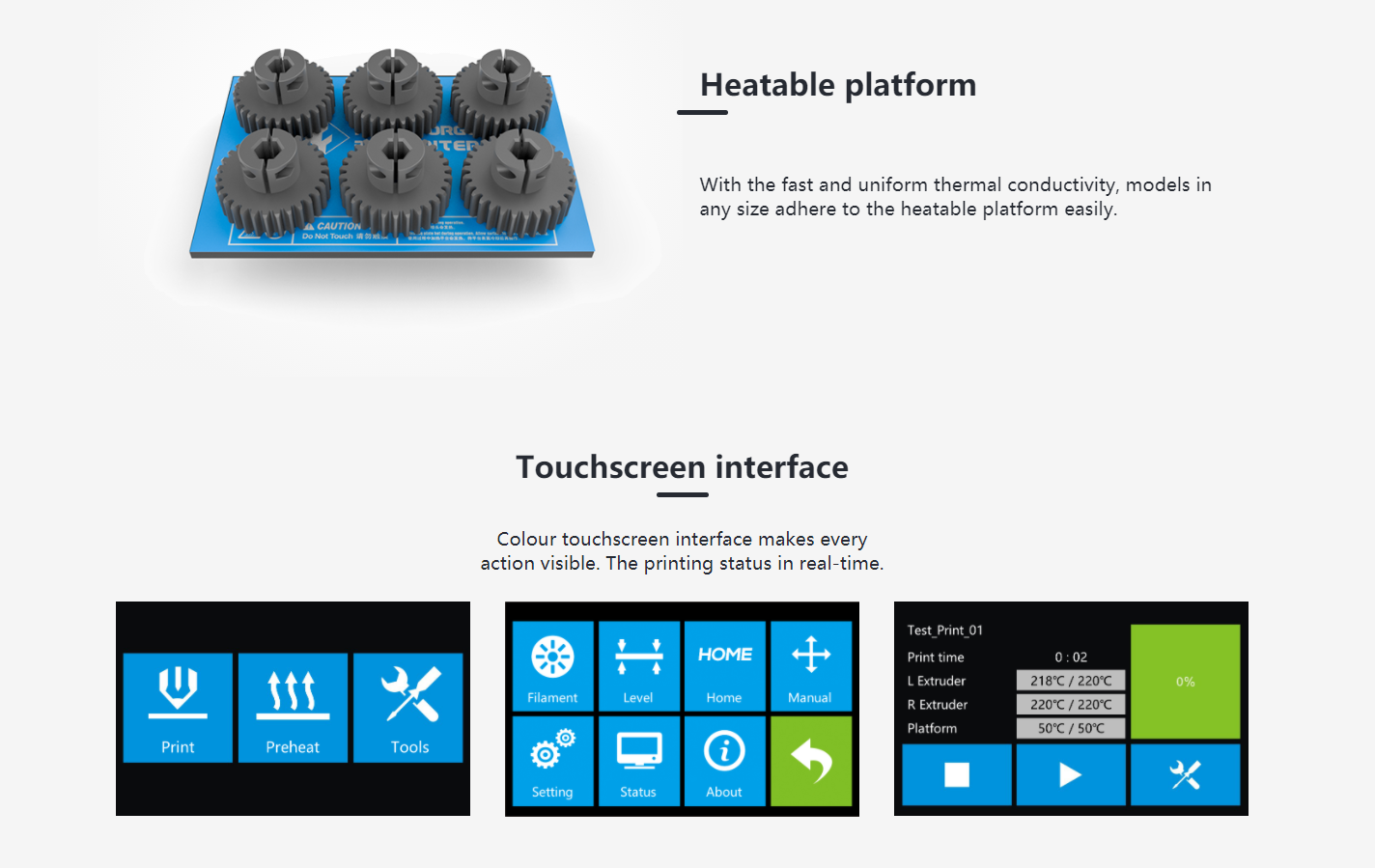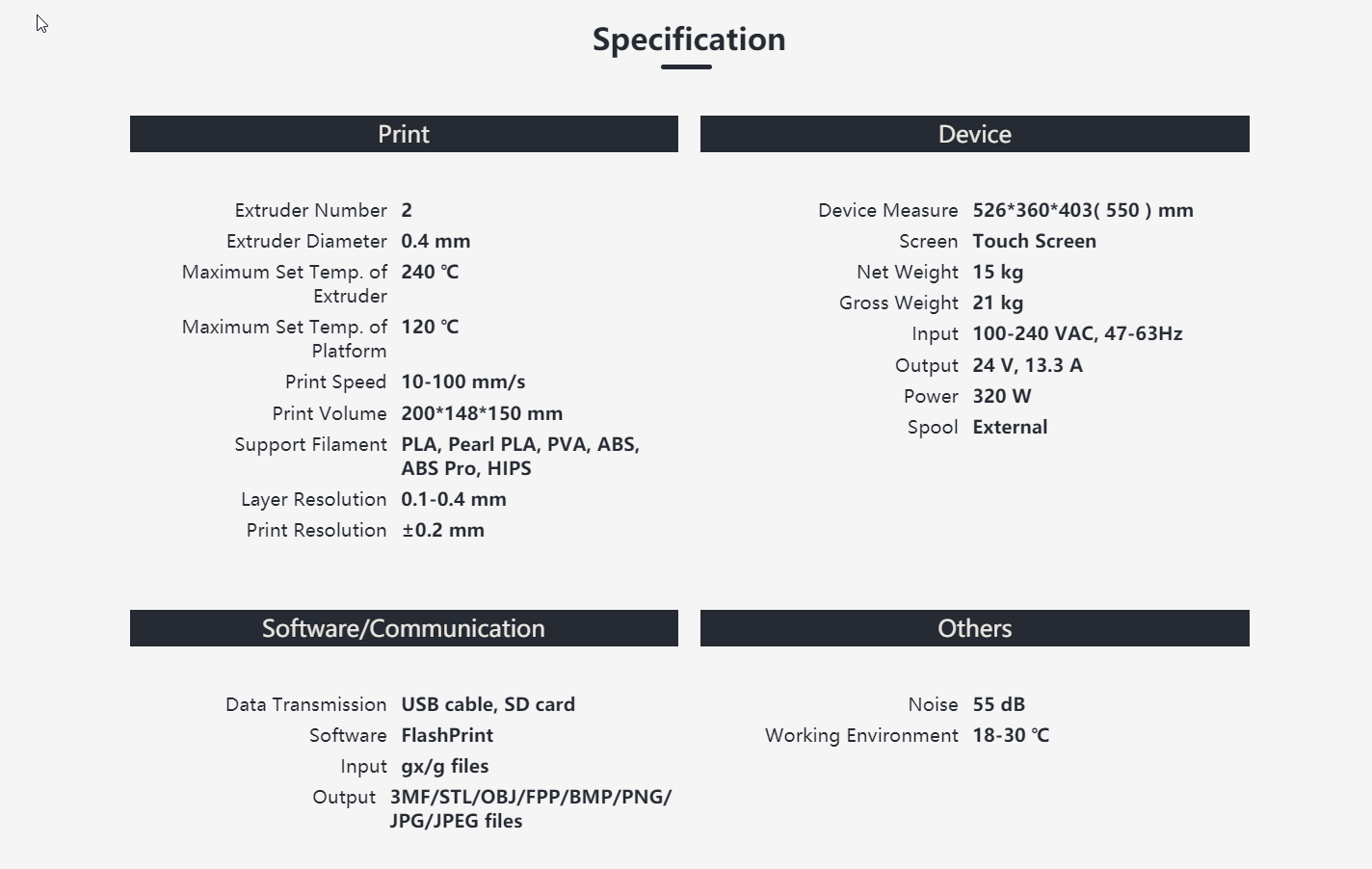 Additional information
| | |
| --- | --- |
| Weight | 20 kg |
| Κατασκευαστής | |
| Enclosed | Enclosed |
| Extruders | |
Construction an Technical Details
Usable Nozzle Typs
MK10
Usable Filament Diameter
1,75 mm
Nozzle Temperatur Max
240 ºC
Open Filament System
Yes
Extruder Typ
direct drive
Printing Speed Max
100 mm/s (depends on material))
Build Area
200 mm x 148 mm x 150 mm
Dual Build Area
200 mm x 148 mm x 150 mm
Build Plate Temp Max
120 ºC
Povrch stavebnej dosky
adhesive sheet
Build Plate Material
Aluminum plate
Build Plate Attachment
fixed
Build Plate Leveling System
manual Leveling
Build Chamber During Process
Open or Closed
Extruder Number Of
2
Extruder Construction Typ Dual
IDEX – Independent Dual Extruders
Installation Space / Requirements
Total Mass
526 mm x 360 mm x 550 mm
Total Weight
15 kg
Operating Ambient Temperature
18°C – 30°C
Max Power Consumption
320 W
Voltage
AC: 100 V – 230 V (47-63 Hz)
Equipment
Hepa Filter
No
Touch Screen
Yes
Connection
SD Card
Yes, SD-Card
USB Port
Yes
WLAN
No
Accuracy
Layer Height
0,1 – 0,4 mm
Resolution
0,2 mm
Shipping
Shipping Box
420 mm x 565 mm x 500 mm
Shipping Weight
21 kg