Flashforge Guider IIS / 2S v2 – with High Temp Extruder
€2.474,90 με ΦΠΑ
The Flashforge Guider II S 3D printer is a further improvement on the Guider II. In addition to the features of its predecessor, it features a built-in HD camera, an air filter and a filament sensor.
The most important product features:
Industrial 3D printing quality for your desktop
Integrated camera for remote monitoring
Built-in filament sensor
Polar Cloud 3D printing platform supported
Description
New updated version that comes with:
Two buildplates Glass & Flexible
Hardened Steel Feeding Gear
Extra nozzles 1x 0.40mm Hardened Steel Nozzle, 4x mixed size Brass Nozzles (0.3 mm, 0.4 mm, 0.6 mm and 0.8 mm)
With high temperature extruder capable of 300℃
Glass platform or flexible one, it is at your choice.So as to meet different needs. An upgrade from last version of Guider IIs. It now includes a flexible spring build plate assy, helping to take off printed models easily.
Glass Platform
to get smoother model buttom;Suggested filament:ABS/PLA/ASA/PETG/PC
Flexible Platform
Using flexible platformto remove models easier;Suggested filament:ABS/PLA/ ASA/PETG/PA/PA-CF/PA-GF
Flashforge Guider IIS / 2S – 3D printer with industrial manufacturing quality and large installation space
The Flashforge Guider II S 3D printer is a further improvement on the Guider II. Its predecessor was already known for its perfect and stable processing. The Guider 2S comes with additional functions. In addition to the capabilities of its predecessor, the Guider II S has an integrated HD camera. This allows you to remotely monitor your 3D printer. Furthermore, this additive manufacturing machine has an air filter that reduces unpleasant odors and harmful emissions. The Guider 2 S is a desktop 3D printer with industrial production quality. It has a very large building volume and at the same time very high resolution and precision. Its sturdy frame and construction ensure maximum stability and robustness when 3D printing your designs.
The most important product features:
Industrial 3D printing quality for your desktop
Large building volume: 280 x 250 x 300 mm
Integrated camera for monitoring
Intuitive operation via color touch screen
Works with Polar Cloud
High manufacturing accuracy
Easy-to-use 3D printing software: FlashPrint
Built-in filament sensor
Compared to Guider II, Guider 2S has a camera that allows you to remotely monitor your 3D print jobs. No matter where you are and when you want to watch your 3D printer. The integrated filter makes your workspace and the environment cleaner and keeps harmful vapors inside the 3D printer. The Flashforge team always places the highest value on the quality and cleanliness of your work environment.
Other features:
FFF-3D printer for demanding hobbyists and prosumers
Large building volume with professional additive manufacturing quality
Filament sensor detects filament status, pauses generative production and simply resumes 3D printing after power failure
Intelligent levelling of the 3D printing bed
Air filter device for reducing unpleasant odors and hazardous emissions
Video monitoring of the 3D printing process using a built-in HD camera
User-friendly 5-inch full-color touchscreen
Closed housing, removable cover and heated platform
Simple, robust frame construction made of metal and stable ABS parts
Guider IIS online camera
The internet-connected camera helps you to monitor your production orders while you are on the road. Now you can monitor your 3D prints worldwide.
Use Polar Cloud
Manage your 3D prints from anywhere with the Polar Cloud online platform. Inventor IIS comes with Polar Cloud Enabled, so you can control your 3D printer from anywhere. All you need is an Internet connection. You can also connect and manage multiple devices simultaneously. Slice your CAD models, queue your 3D print jobs and use the built-in webcam to check if 3D printing is working correctly!
Solid and well finished frame
The Guider llS follows its predecessor in high processing quality and solid construction. All moving parts are processed with immense precision. This ensures stable, repeatable and reliable 3D printing performance.
Touch screen
Guider 2S is equipped with a 5-inch full-color touch screen and a multilingual user. Preview your 3D printed models on the touch screen. Control your 3D printer easily and intuitively.
Built-in filament sensor
The integrated filament sensor detects whether filament is inserted into your 3D printer. If the filament leaks, your 3D printer will receive a message and pause Flashforge Guider IIS. After you have inserted a new filament, you can simply continue 3D printing. The filament sensor also allows you to resume 3D printing after a power failure.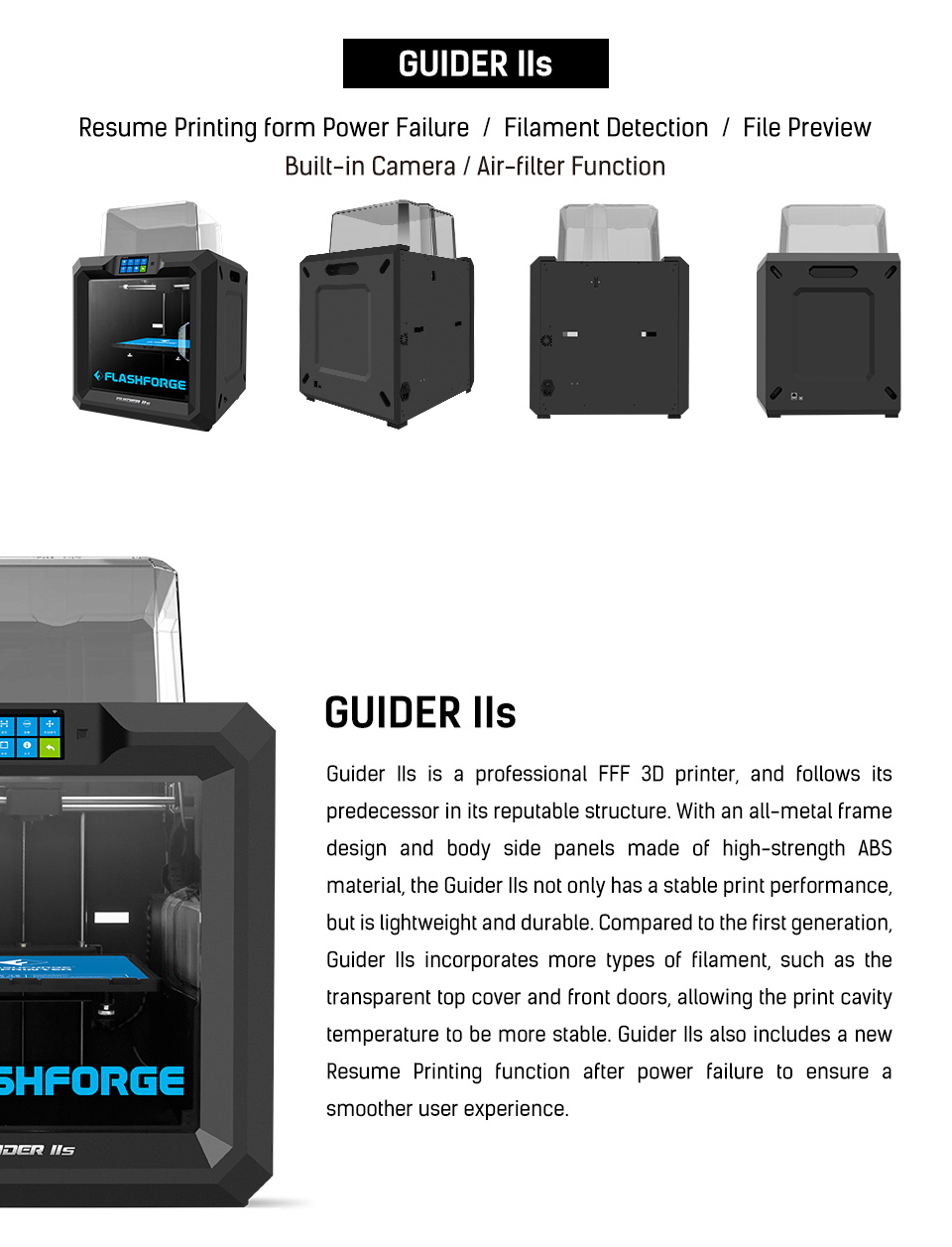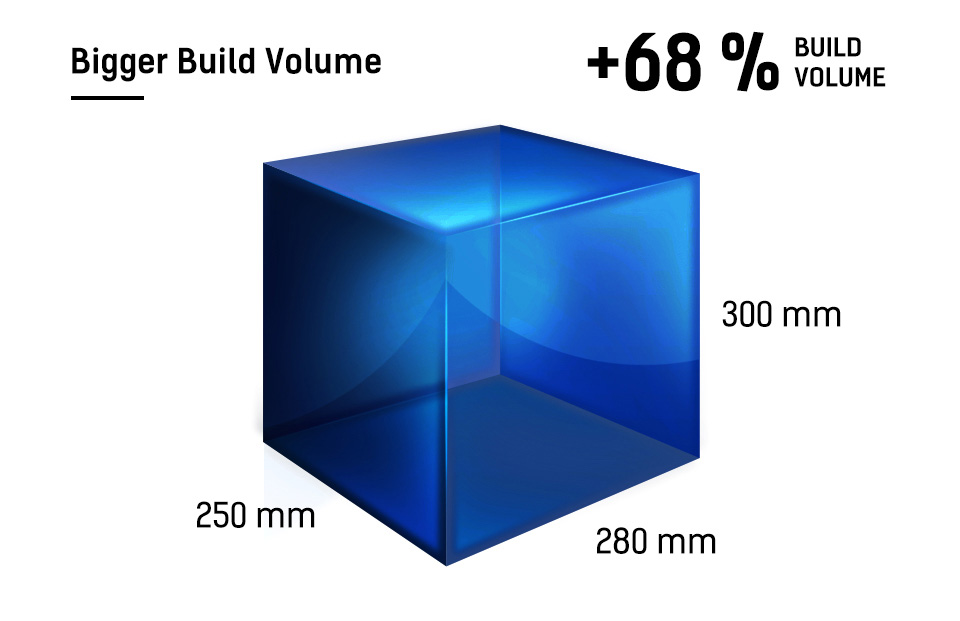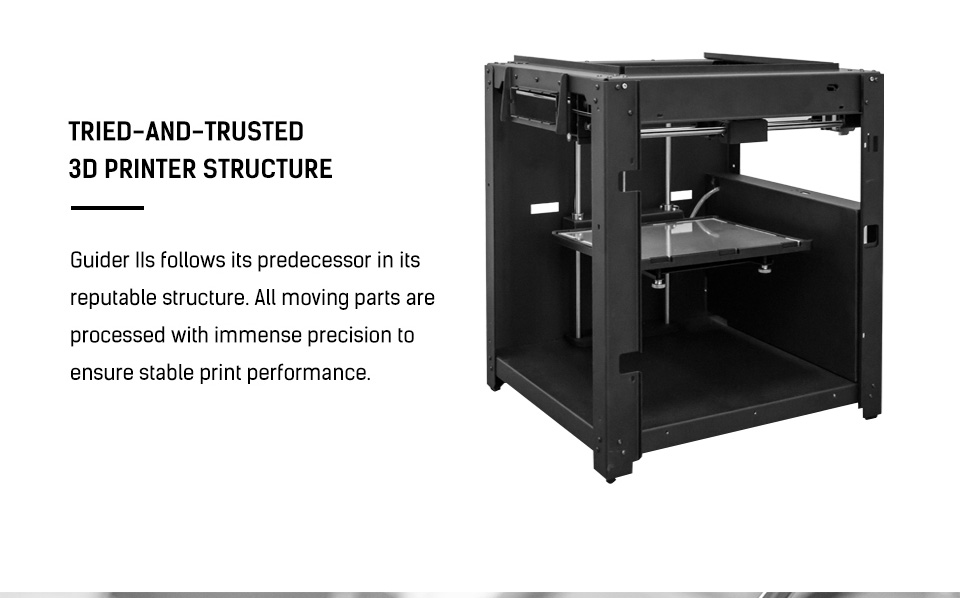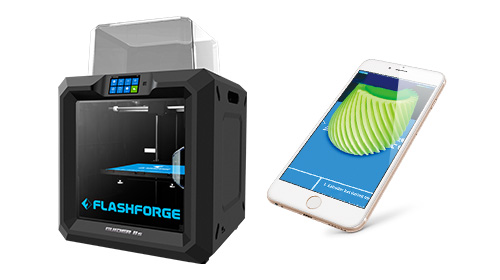 Guider IIS On-Line Camera
On-line camera helps you monitor your print jobs when you're away via on-line camera wherever and whenever you are.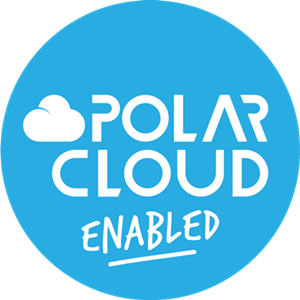 Polar Cloud Enabled
Manage your 3D printing from anywhere using Polar Cloud. The Inventor IIS comes Polar Cloud Enabled straight out of the box, meaning you can control your 3D printer from anywhere with an internet connection, connect and manage multiple printers at once, queue print jobs, slice models, access unique educational curriculum and check how your print is going with the built-in web cam!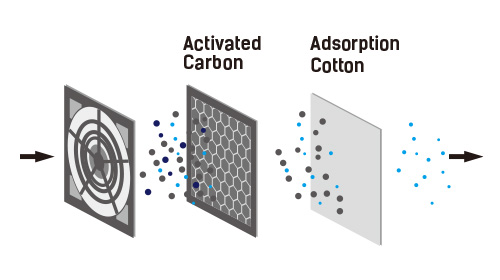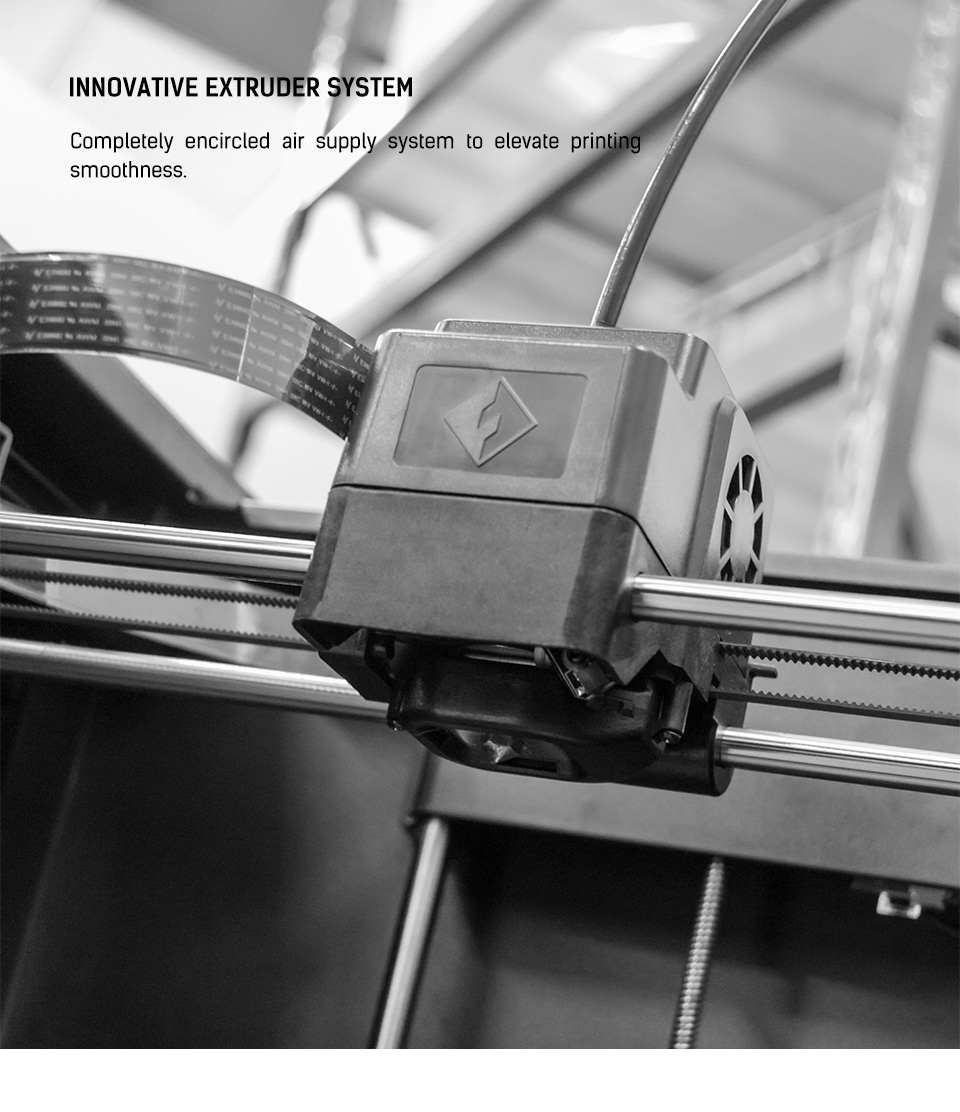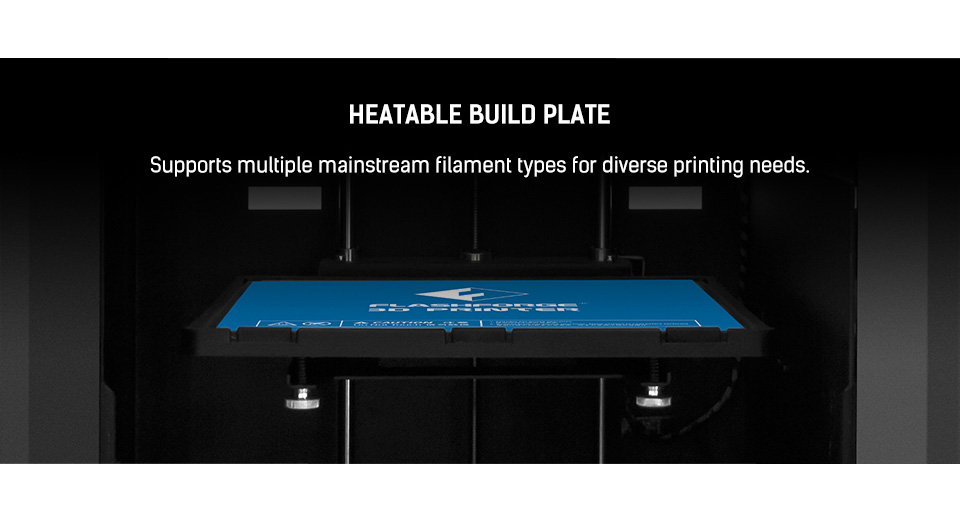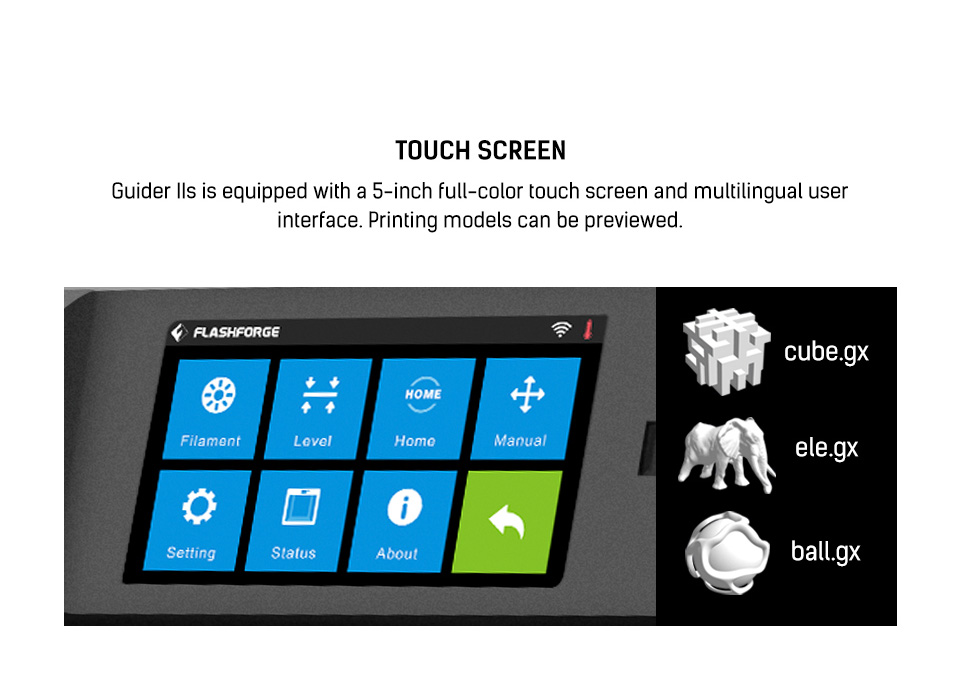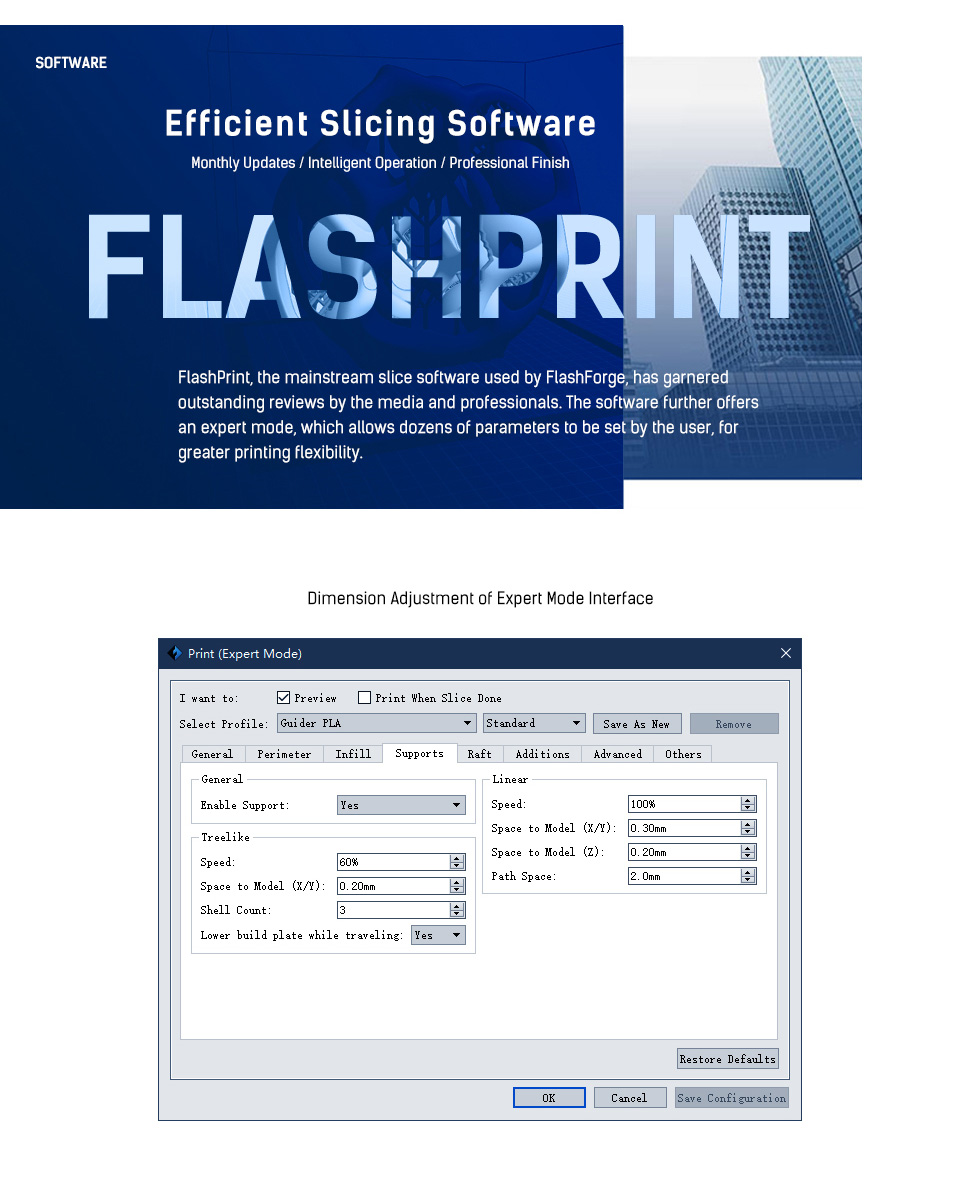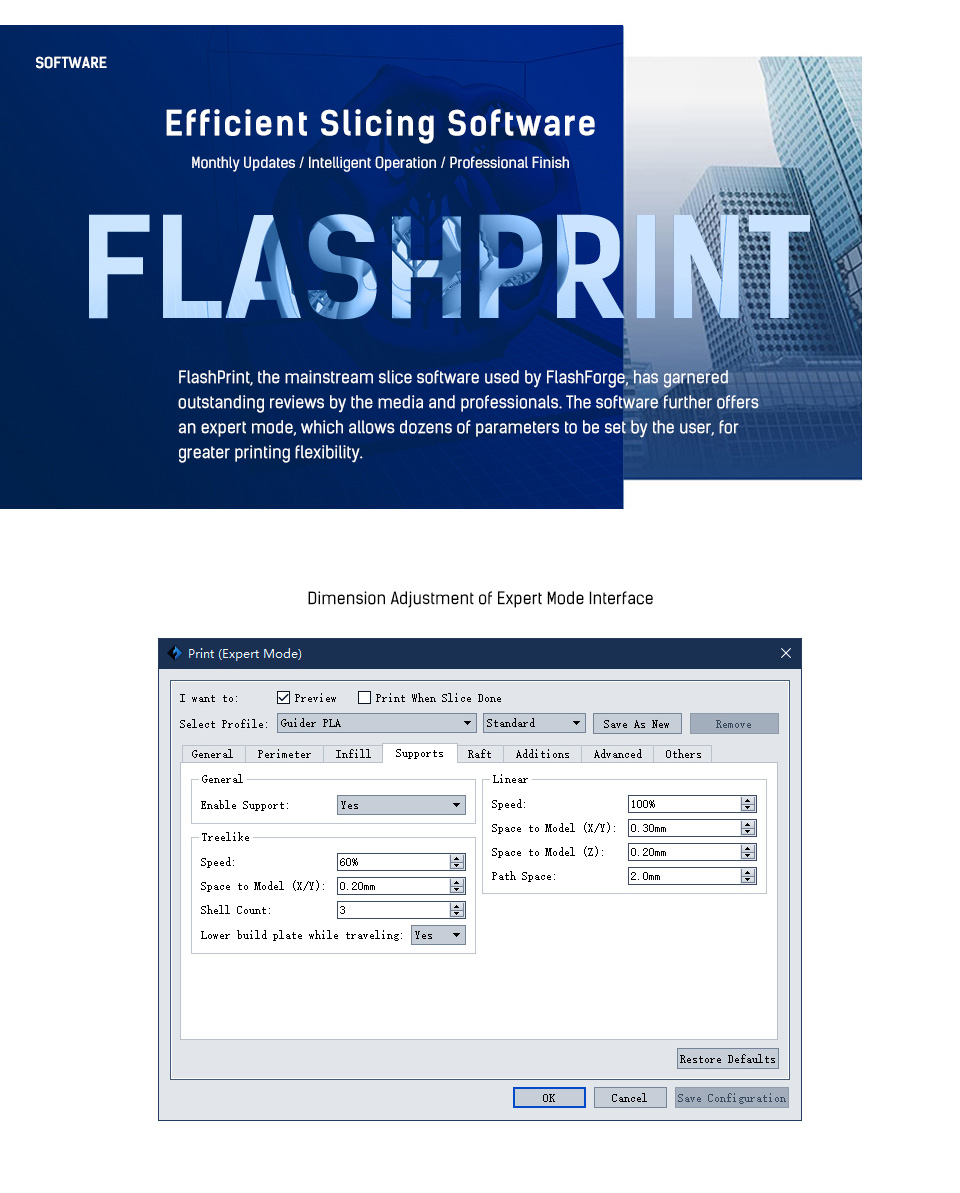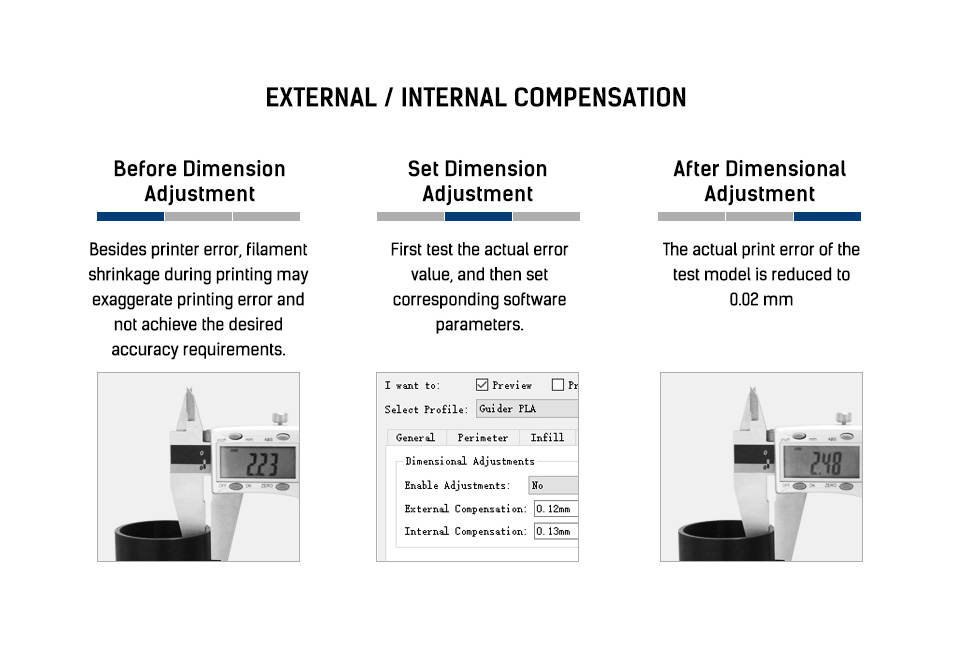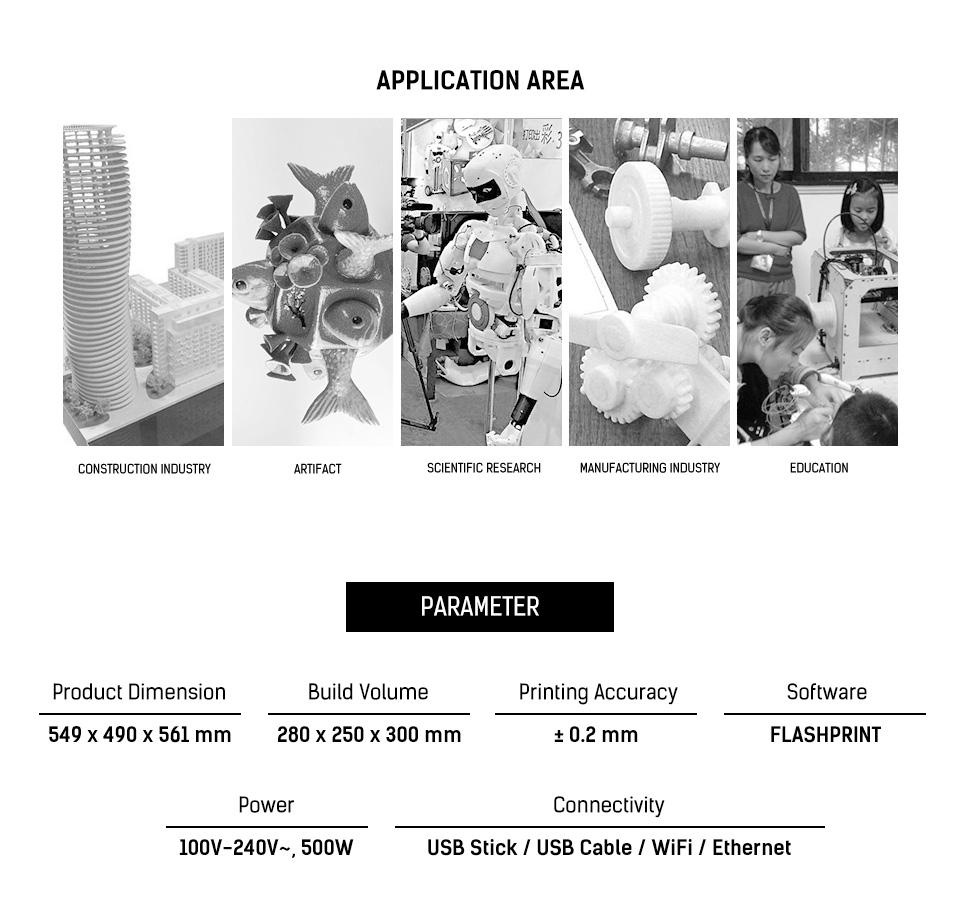 Technical specifications:
Unit size (without cover): 549 x 490 x 561 mm
Building volume: 280 x 250 x 300 mm
Manufacturing accuracy: ±0.1 – 0.2 mm
Print Software: FlashPrint
AC input: 100V-240V~, 500 W
Connectivity: USB stick/USB cable/Wifi/Ethernet
Filaments: ABS / PLA / Flexible Filaments / Conductive Filament
The Flashforge Guider IIS – 2S is a 3D printer with industrial manufacturing quality and a large building space. Finished components of the highest quality and precision. Buy it here now.
Additional information
| | |
| --- | --- |
| Weight | 24,1 kg |
| Κατασκευαστής | |
| Enclosed | Enclosed |
| Extruders | |
Construction an Technical Details
Usable Filament Diameter
1,75 mm
Nozzle Temperatur Max
300 ºC
Open Filament System
Yes
Extruder Typ
direct drive
Printing Speed Max
150 mm/s (depends on material))
Build Area
280 mm x 250 mm x 300 mm
Build Plate Temp Max
120 ºC
Povrch stavebnej dosky
adhesive sheet
Build Plate Material
glass
Build Plate Attachment
clamp
Build Chamber During Process
Open or Closed
Extruder Number Of
1
Installation Space / Requirements
Total Mass
550 mm x 490 mm x 570 mm
Total Weight
30 kg
Operating Ambient Temperature
18°C – 30°C
Max Power Consumption
500 W
Voltage
AC: 100 V – 230 V (47-63 Hz)
Equipment
Hepa Filter
Yes
Door Sensor
Yes
Filament Runout Sensor
Yes
Power Loss Fail Safe
Yes
Touch Screen
Yes
Camera
Yes
Memory Internal
Yes, 8 Gbyte
Connection
SD Card
Yes
USB Port
Yes
Ethernet Port
Yes
WLAN
Yes
Cloud Control
Yes
Accuracy
Layer Height
0,1 – 0,4 mm
Resolution
0,2 mm
Shipping