xTool D1 Rotary Attachment 2 Pro – RA2 Pro
€349,90 με ΦΠΑ
Roller Rotary/Chuck Rotary/Sphere Rotary/Ring Rotary
Support irregular cylinders, tumbler, mug with handle
Compatible with xTool D1, LightBurn & LaserGRBL
Pre-assembled, Metal design and easy to use
Description
xTool RA2 Pro for D1 & Other Open Machines
Roller Rotary/Chuck Rotary/Sphere Rotary/Ring Rotary
Support irregular cylinders, tumbler, mug with handle
Compatible with xTool D1, LightBurn & LaserGRBL
Pre-assembled, Metal design and easy to use
Super Versatile and Functional
You can easily change the structure to process different objects but get the same amazing results.
| | |
| --- | --- |
| | |
| Roller Rotary | Chuck Rotary |
| Extra length | Extra diameter | Irregular cylinders | Vector engraving | Mugs | Tumblers |
| | |
| Sphere Rotary | Ring Rotary |
| Balls | Vector engraving | 25mm-100mm | Rings | Vector engraving | 11mm-70mm |
Meet all Your Needs
From home to outdoor, from party to sport, RA2 Pro suitable for 90% daily use cylinders and spheres. Make unique wedding wine glasses and custom jewelry.
Higher Speed and Accuracy
360°/s maximum angular speed
0.45° precise control
0-100mm diameter range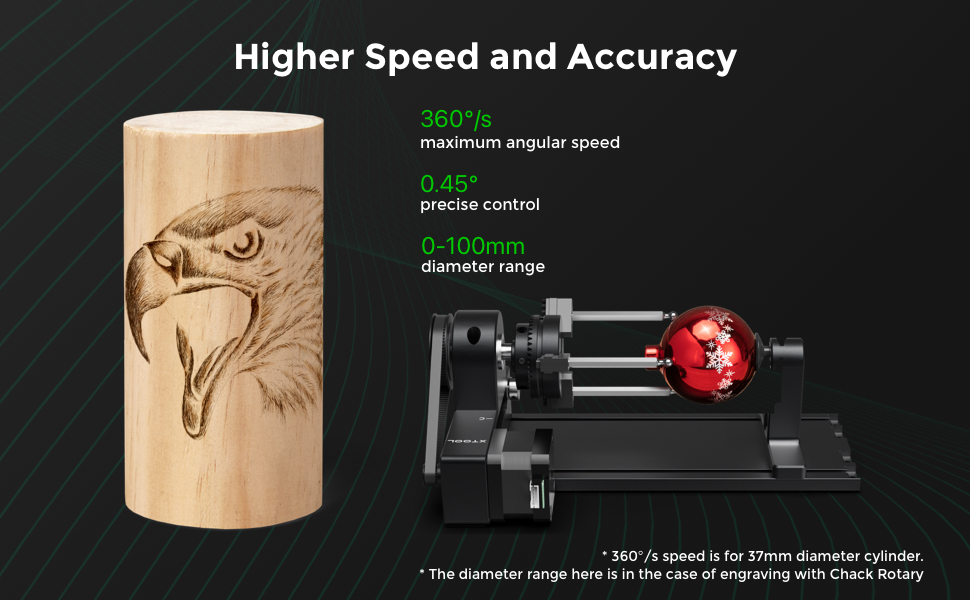 Compatible with Other Brands
Compatible with xTool D1 and other laser engraving machines with open structure.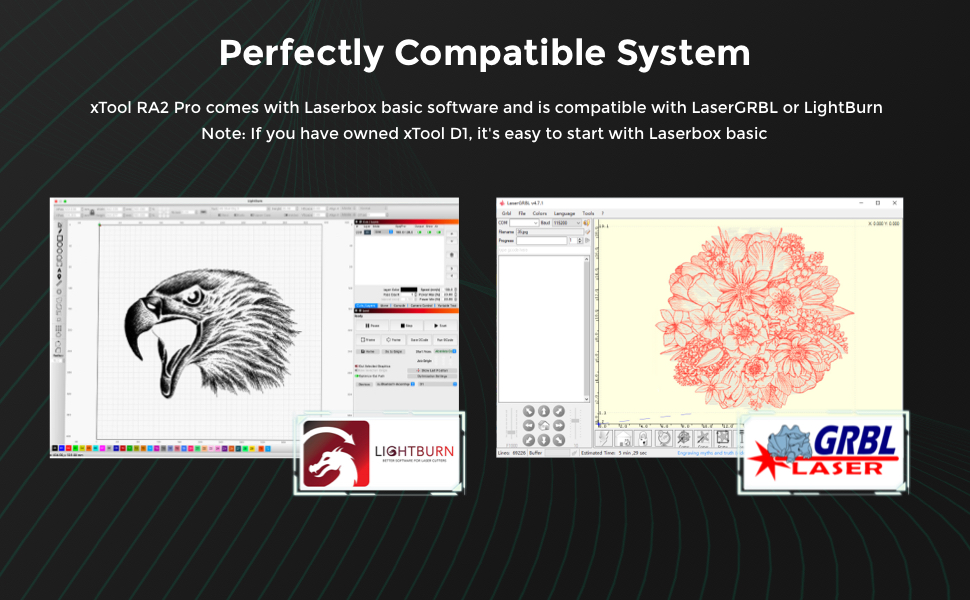 Soft-pad Jaws

Soft-pad covered on jaws provide a larger friction force, and prevent brittle objects from breaking.

More Choice for Jaws

xTool RA2 Pro comes with double step jaws and single step jaws. Users can also 3D print their own jaws to work with more objects.

Download 3D File (38mm – 82mm) > >

Separable Level Tool

Keep the center of objects stable all the time, especially for irregular and extra-long cylinders.

Easy to use

Smart mechanical structure design makes it easier to adjust the support module height and the chuck diameter.
Additional information
| | |
| --- | --- |
| Weight | 2,750 kg |
| Κατασκευαστής | |
Specification
Product Size
321*138*105mm
Package Size
460*182*95mm
Package Weight
2.33kg
Compatible with
xTool D1, D1 Pro and other open laser engravers
Gear ratio
Chuck 4:1
Chuck diameter
50mm
Engrave diameter range (Use additional risers)
Roller: 3mm-198mm
Chuck: 0mm-100mm
Sphere: 25mm-100mm
Ring: 11mm-70mm
Software
Laserbox basic
LightBurn
LightGRBL